I've been professionally driving now for 10 years. In that time, I've driven more miles than I drove in the 20-something years before that. And yeah, I've learned a few things, but I spend more time dodging those drivers who apparently never did!!
So I just wanted to share a few quick tips that may lengthen your life span while you're out on the road doing whatever it is you're doing.
Turn Signals – The car manufacturers installed turn signals for a reason, and it wasn't just to give you a place to hang your ponytail holders or rubber bands! USE THEM!!! BEFORE you slow down to turn, not after. At that point, someone who doesn't know you're turning has already slammed into your ass!!
Entering Roadways – Do NOT pull out of a parking lot in front of a vehicle moving at 45 mph… or even 35mph. Average people expect that you'll wait till they're past you before you pull off the lot moving 2 mph!!
Passing Vehicles at Night – Do NOT turn on your brights at night to let people know you're about to pass on their left. It's dark. We can see your regular headlights. And we assume that if you're coming up on our left, rather than behind us, that there's a good chance you're going to pass us. We don't need you to blind us prior to passing!!
Hesitant Driving – If you're a hesitant driver and traffic makes you nervous, either practice, stay on the surface streets until you're more comfortable, or stay off the fricking road! You're a hazard. And you're more dangerous than the idiot that zips back and forth between cars thinking he's saving himself more than 4 minutes to get somewhere! Fast drivers are there and gone. There's no time (and usually no need) to make a decision. Hesitant drivers keep making people try to figure out what they're actually going to do. And when they think you're going one way and you go the other, someone's gonna get hurt!!
Parking On The Roadways – pay attention to where you stop to simply change drivers, get out and take pictures, or just to stretch your legs. Blind curves? Bad idea! Just over hilltops? Bad idea!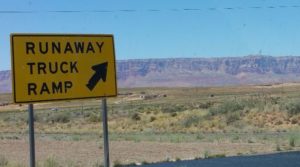 Stopping to Pee (yes, there are those times where you just gotta do it!) – This is the most important one to remember… NEVER, I repeat, NEVER stop in front of one of these!?! HORRIBLE IDEA!! I don't care HOW bad you gotta pee!! (And yes, I actually saw a man stop right in front of this ramp to do just that!)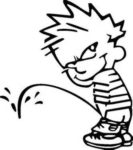 There. You now have just a handful of ideas that will keep you (and the rest of us) safer on the road!
Feel free to share your own thoughts on this down in the comments area. And if you feel the same way, feel free to share your thoughts with your fellow drivers . Heres an AWESOME bumper sticker to let them know!!

Take care,
Debi aka @GenXBrat
p.s. Be sure to subscribe for updates and to join in on the conversations!
2 thoughts on "
Don't Stop to Pee on Runaway Truck Ramps (And Other Highway Safety Tips)

"