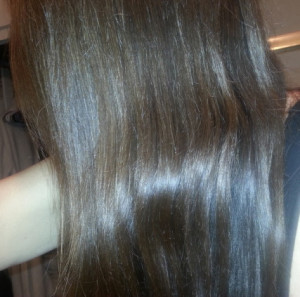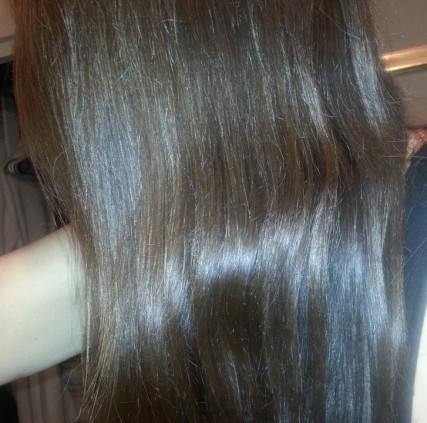 I can't wait any longer. I've reached my limit. It's time to color over the grey hair!
But one thing I've learned recently is that as I get older (I promise I'll deny that statement was every made by me if I'm asked), my gray hair isn't the only issue to contend with. It's also getting drier in general so it's time to start watching how I condition my hair as well.
So in addition to looking to get rid of the grays, I've also gotta find a way to deep condition in the process and minimize the damage.
Warning: For those of you are pure naturalists, what I'm about to explain may offend you. Sorry. But the goal this weekend is to get rid of the gray hair. Everything else is secondary… period!
My plan started with finding a cheap (meaning chemical) hair color. There are a few brands I've used so I do tend to stick with those… Clairol, Garnier Nutrisse, and L'Oreal are the three brands I use.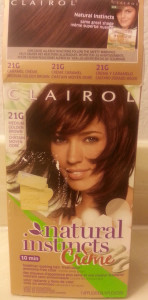 I find it frustrating sometimes to find the right color. My hair does best with "Golden" or  "Warm" browns, but I've run across a few that I didn't like. One added that horrid maroon tint to my hair, while another added more orange than even my brother had as a child (and he's a natural "red" head!).
For this particular gray hair coverage experiment, I bought Clairol Natural Instincts Creme in a medium golden brown. It may end up a bit lighter than I usually do but it was on clearance and I liked the color they show on the box. 🙂
Oh hell! It was on clearance. Which means if I like how the color turns out, I'm gonna be really ticked if I can't find it again! Well, I'll cross that bridge when I get to it…
The next step was to figure out how to best prepare my hair. Not only for the color, but also how to best condition so that the color would work, without damaging my hair more than it already is.
So it was off to the internet and Google.
After perusing several sites and reading lots of comments from people who have actually tested out the various methods (do you really want to take advice straight from the companies who sell the stuff you're using?), I decided on the following game plan.
* Get rid of the buildup on my hair using baking soda and apple cider vinegar (I use Bragg's Organic)
* Condition my hair before coloring using coconut oil
* Color and then recondition with the conditioner that comes with the color treatment
After checking the websites again for an idea about how much of each ingredient to use, I'm ready to go. I think… I'll let you know when it's all said and done.
Results
It's Saturday now. Last night I prepped for today. I mixed 3 tablespoons of baking soda with 9 tablespoons of water (I'm sure there's a "cup" type measurement for 9 tablespoons, but I'm not cooking, I'm doing my hair), in one of those condiment containers we used to use at picnics when we were kids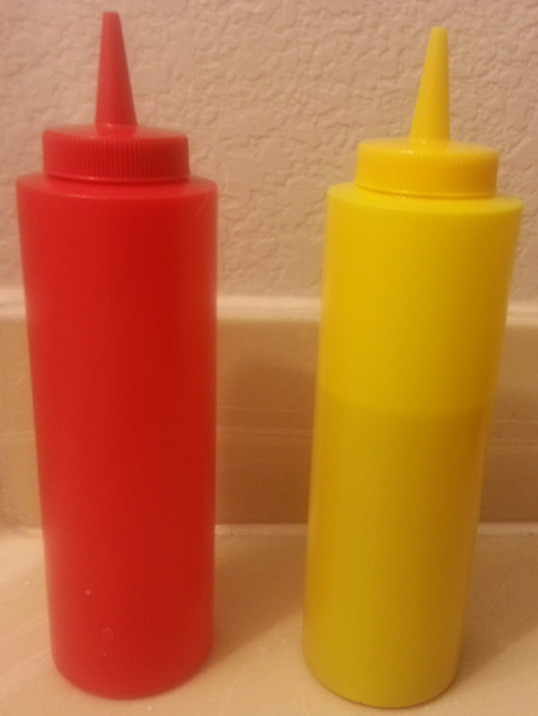 (You can get the clear ones really cheap at Amazon if you're already putting in an order… or you can get some cheap ones at the dollar store like I did if you don't mind people laughing about you keeping mustard and ketchup in your bathroom!). They're super easy to use in the shower because it doesn't matter if they get wet and water doesn't get into them.
It's a 1:3 ratio of baking soda to water so you'll want to adjust based on the amount of hair you have, how thick it is, etc. Oh, and I used my bottled Sparkletts water, not tap. Arizona has terribly hard water which is causing part of the damage to start with.
I put the solution on my hair, starting with my scalp and, as I added it, I scrubbed my scalp to remove any residue build up. Once my entire scalp was scrubbed, I added the rest of the solution to my hair. But for the ends, I didn't scrub like I did on my scalp. My hair's already dry and I was worried that scrubbing the ends with baking soda would make it worse, but still wanted to get rid of whatever might be coating it.
Once it was all scrubbed in, I let it sit for 3 minutes, then rinsed with warm water. After rinsing, I added the apple cider vinegar mix, which was a 1:4 ratio of vinegar to water. I mixed a half cup of vinegar with 2 cups water. I read that you can use white vinegar too, but I keep Bragg apple cider vinegar in my house all the time for health reasons already, so I figured that would be best.
It only took about a third of the mix that I'd made but I can keep the rest in the fridge and it'll be fine for future use. From what I've read, it makes a really great conditioning rinse in general.
I left the vinegar on for 3 minutes as well, then completely rinsed with cool water.
Once I was done, it was easy enough to comb thru and it felt really clean, but it also felt like it was going to be really dry… and it was. This morning I looked like I was related to the scarecrow on The Wizard of Oz.
But I kept moving forward. It's not like I had a ton of options at this point right!?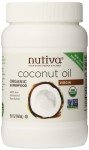 The next step was the conditioning. I grabbed my handy dandy jar of Nutiva Coconut Oil, scooped out what I'd call 4 tablespoons, put it in a salsa bowl, and microwaved it for about 20 seconds. Just enough to barely melt it and make it goopy enough to coat my hair. Yes, I said goopy.
Then I trotted off to the bathroom with my bowl of goop and started putting it in my hair. I just scooped it out 4 fingers at a time and ran them thru my hair a section at a time. It didn't take all that I'd melted to coat my hair so you may want to try a bit less (my hair is fine and nearly to the middle of my back… think bra strap line).
Once it was all coated, I wrapped it up in an old pillow case (the same one I used when I first tested out coconut oil as a conditioner).
While I was giving the coconut oil time to condition and sink in to my hair (30 minutes), I was talking with my son's girlfriend who knows tons of stuff about hair colors and prepping. She was explaining Henna hair dyes to me. By the end of the 30 minutes, I knew I wanted to give those a shot next time, so I'll have to do some more research!
Then it was time for the color. I mixed it as per the directions, coated my hair starting at the roots, then set my timer for 15 minutes.
The directions said to rinse the color, add the conditioner that came with it, and then rinse again. But since I had already put coconut oil on my hair (which is definitely not a part of the instructions), I was going to have to find a way to get it out too.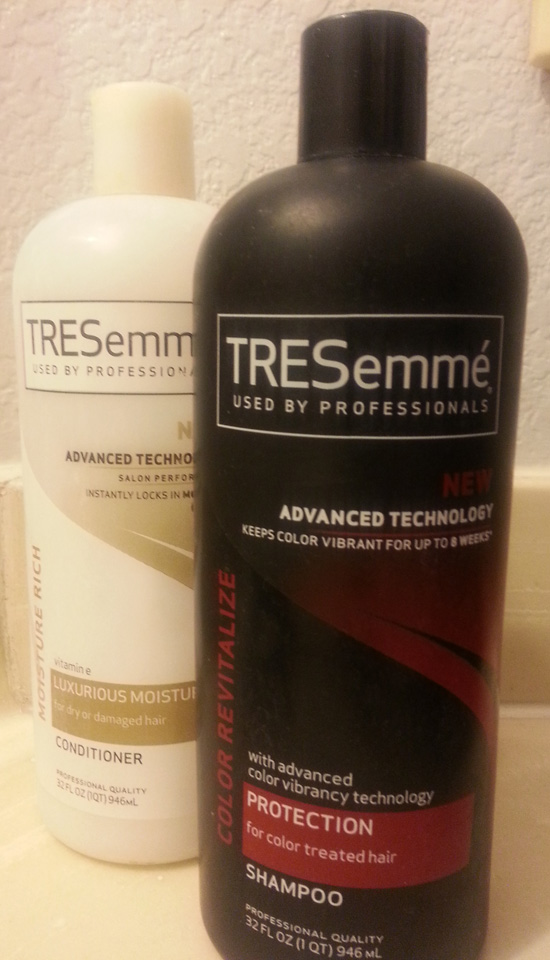 So, after the timer went off, I rinsed, added the conditioner, waited 3 minutes, then rinsed again. But then I used my usual Tresemme shampoo and washed my scalp. As for the ends, I strictly let the suds that were being washed away lightly wash the ends rather than scrubbing them.
Of course then it dawned on me after I rinsed that THAT'S the time my hair could use the conditioner… so I conditioned again. Not well thought out obviously, but no harm, no foul!
I let my hair air dry for about 30 minutes, and then finished drying with my blow dryer. The results? Awesome!
The gray is gone, my hair is soft, and for the few wisps of frizzies that were left, I simply ran 2 fingers across the now solid again coconut oil, and ran them across my ends to make them all shiny and frizz free!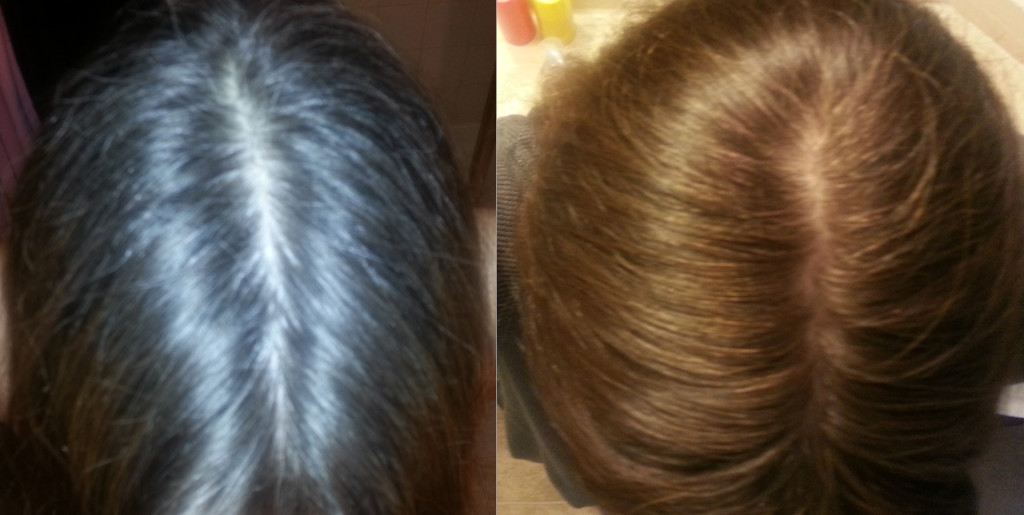 p.s. I've used coconut oil as a conditioner once before but this is the first time I've used it under my hair dye. I'd love to know if you've done it and what sort of results you got. I know I've read that for some people, it's just too much and causes their hair to be oilier than usual. Maybe it's in the amounts used or how often? I know my son's girlfriend says she gets oily if she uses ANY kind of conditioners, with the exception of when she bleaches to prep her hair for her funky color hair (reds, blues, greens, purples and such).
Warm Regards,
5 thoughts on "
Using Pure Coconut Oil & Brown Hair Dye to Color Gray Hair

"