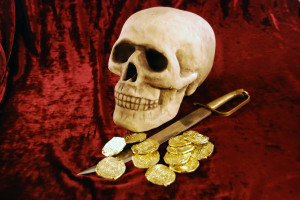 Yeah I know. I might upset a few guys with this. And maybe even a few gals who like having these guys around.
But at what age are you really gonna be ready to give up skulls as your favorite design to have on your t-shirts, jewelry, ball caps or, in today's experience, on the grill of your big rig?!
I know we all have favorite things. Hell, when I was younger I bought all things Unicorn. And it's not that I don't still think the pictures and posters I bought aren't pretty… but there comes a time when it's time to hand them off to the younger generation so they can enjoy them too.
Are there exceptions? Sure.
You're inviting her out to the Monster Truck pull to see Grave Digger.
You're a doctor and you're at a medical convention & are using a skull for illustration purposes.
It's Halloween and you're inviting her out to a costume party.
You've decided to become (or already are) a pirate.
But outside of that, I just don't think you're going to get anywhere hitting on women over the age of 35 or 40 if you're still wearing that skull around your neck!
… but I do appreciate the giggle, especially after the day I had yesterday!
3 thoughts on "
Today's Giggle Moment – Skulls… Really?

"