Tag Archives: Budget Meals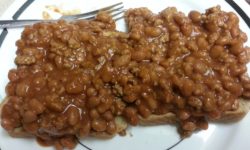 My mom used to make this when we were kids. And while she always told us, "I never said I could cook, I just said I could keep us from starving!", this was always a great meal. And to think, it came about just because she needed to stretch her food budget… and a pound of ground beef!
Nowadays I make it with ground turkey, but that's just a personal preference. But since it's such a simple recipe (the best kind in my book!), I wanted to share it. It's certainly nothing fancy, but it's delicious, healthy, and can really help you out if you're looking for great family meals on a budget.