Category Archives: Anti Aging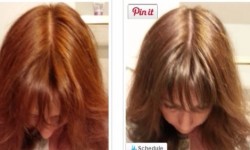 I wasn't sure when it was that I first started looking into how to use henna hair dye, so I checked my email to see when I'd ordered it. It was July of last year.
I've spent hours and hours reading different websites so I could reduce the "turn my hair green" factor once I decided to dye my hair. Given how well it turned out, I'm glad I took the time.
If you're new to using henna hair dye and considering giving it a try, I highly suggest you do the same thing… unless of course you don't mind having green (or some other weird color) hair for a while!