Category Archives: Health Talk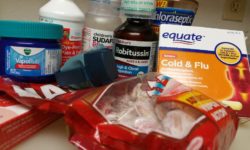 While 2017 kicked off without a ton of fan fair or mayhem in my house, the month of January is certainly taking its toll!
My house munchkin caught a cold. No big deal right? I looked after her for nearly two weeks without a problem. And yes, I know, all the parenting books and courses and groups talk about how tough it is on our child/grandchild to feel sick. I'm not here to tell you how you should take care of a sick kid.
To hell with that… keep those sneezing, coughing, using their sleeves for a kleenex, snotty-nosed kids as far away from you as possible!!