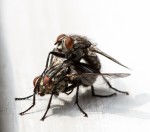 It's not a good idea to let flies into your home. It's an even worse idea to let a pregnant one in!
I can't begin to explain how much fun it is to get up, go to the kitchen, raise the window shade, and have 20 flies head towards your face to say good morning!
I CAN explain what a fly massacre looks like however! The flailing arms. The dual slashing fly swatters. The frustrated look when one fly gets smacked while four more escape to the other room… again!
It ain't pretty! But for today, the 2-legged NON-winged army won the battle!