As a truck driver, I spend more time at truck stops and rest areas than "normal" people. And while there are differences in rest areas from state to state, obviously they were designed to serve some basic purposes…
If you've gotta pee, pull in here, we have toilets. Please don't water our plants with your biohazard waste materials.
If you're hungry, we've got snacks. And if the machine takes you're money, there's no one here to handle it so we'll just keep the extra funds for our roads… sorry.
If you're tired, get your sleepy ass off our roads and get some rest. We don't wanna clean up any more road kill from our roads.
And while the purpose is the same in all states, the hospitality factor is definitely NOT!
California is a prime example of a state that sucks in this regard. Their rest areas are closed regularly. There are HUGE no parking signs near every on/off ramp from the freeways. Many of the exits have "no trucks" signs so you can't get off the freeway. And when you do find an exit you can take, there are rarely places to park that they won't come run you off and/or give you a $125 parking ticket and points on your license.
If you've ever heard a truck driver talking crap about California and wondered why… now you know.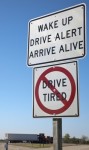 Then there are states like Utah who believe it's better to get a tired driver pulled over than to risk their residents' lives. They have signs up all along the freeway that tell you tired driving isn't even allowed. They've set up areas on the freeways wide enough to pull over and rest without hurting anyone or worrying about someone running into you.
Can you imagine?! They want people to survive on their roads to drive another day!

Why Are We Talking About Rest Areas?
Here's what got me thinking (or chatting) about rest areas.
I drive mostly California and Arizona at this point and there are a few notable differences between the two.
California uses powdered hand soap. You remember that stuff we used in grade school where you have to push the metal bar up into the dispenser and it dumps white powder into your hands.
I know right?! I didn't realize they still made it either!!
Arizona uses your standard liquid soap dispenser (with nice smelling soap actually). But they also have doors on the stall that, when you shut and lock them, you feel (and it sounds) like you're starring in an episode of Alcatraz. Yes. Big metal doors with heavy clanking dead bolts that make you wonder if you're gonna get to leave when you're done with your business.
But here's the part where they all seem to agree and I just. don't. get. it.
They all use single ply toilet paper. Yes. SINGLE PLY.
Why is This Important?
Here's the thing.
If the stalls have doors, I'm good. I don't care if they're heavy or light. I don't care if they make noise or they've been silenced by WD-40. I don't care if the doors swing in or out.
If they have soap, I'm good. Powder, liquid, hell I'll even use bars!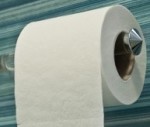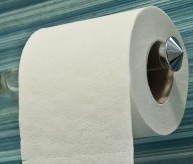 But toilet paper? Is it really saving money to use single ply tissue when your visitors have to use two to three times as much just so they don't feel like they're violating themselves?!

I'm just asking…
Later,
Debi aka @GenXBrat
p.s. Have you had issues with rest areas being closed when you need them? Do you use single ply tissue at home? Do you find you have to use more when you end up at places that do? Inquiring minds really DO wanna know!! LOL
2 thoughts on "
Why Do Rest Areas Use Single-Ply Toilet Paper!

"