I recently discovered I have a crock pot – actually, I re-discovered it. I'm sure I bought it years ago for a recipe I found that I wanted to make. But like most the recipes I find that inspire me to "want" to cook, I probably lost it and just never got around to looking for another use for this awesome new cooking tool I own.
Laugh all you want… I have two cabinets full of various spices and cooking flavor stuff, just for that very same reason!!
Anyway, I bought a pork roast at the store last week – I don't find them often at the local stores anymore so I buy them when I do.
When I bought it, the plan was to have pork roast one weekend. The thing is, I only know how to cook them in the oven. But, since I live in Arizona and summer has arrived, I didn't really wanna have the oven on for a few hours.
So, I went looking for some other recipes – No, it doesn't take a recipe for me to bake a pork roast – believe THAT or not!
While I was searching, I ran across a crock pot recipe for pulled pork. That's actually when I remembered I'd bought a crock pot at one time – the question was, could I find it?
Well, I not only found it – I USED it!
I found a recipe that had a picture and everything. (Yes, it helps me to see what it's SUPPOSED to look like before I attempt to duplicate it!) 🙂
I wasn't sure if I could pull it off since I didn't remember ever having cooked in a crock pot before, but I figured with a recipe, a picture, and a prayer, I might be able to make it happen.
I had to adapt the recipe a little because I eat low carb nowadays and it uses honey, but it was so delicious, it didn't make a bit of difference. Well, it may have to those who have eaten WITH the honey – but it was incredibly seasoned, tender, and tasty!
The original recipe can be found at 100 Days of Real Food but here's what I did….
RECIPE (and my notes)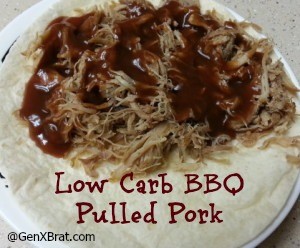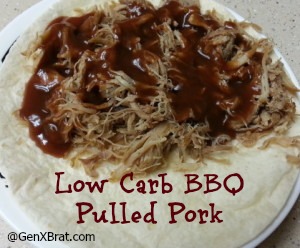 The pork roast I bought was about 4 pounds. I cut that stringy net thing off of it and it fell apart into about 4 pieces. I threw them all in a skillet long enough to brown a bit on both sides. (That was a suggestion in my Mexican Pulled Pork recipe for giving it more flavor, so I just did it here too).
While it was browning, I measured and mixed my spices:
INGREDIENTS
1 tablespoons salt
2 teaspoons black pepper
3 tablespoons paprika
½ teaspoon cayenne pepper
1 teaspoon garlic powder
½ teaspoon dried basil (the original recipe used thyme, but I didn't have any so I Googled to see what I could substitute)
3 tablespoons olive oil
1 onion, peeled and cut in half
Note: As you may already know, I'm not a big onion fan, but I do okay with them adding flavors, especially when you're gonna be cooking it to the point that they'll be mush at the end (or big enough to take out).
INSTRUCTIONS
– Mix the dry spices together, then add the olive oil to make it into a paste.
– Put the onion in the bottom of the crock pot.
– Put the meat into the pot and then pour the spice mixture over it.
Don't worry if it looks like most of it's running off. It's gonna cook long enough that it'll blend before it's done.
Turn on your crock pot (low heat), then leave it for about 7 or 8 hours.
After You're Done Sleeping, Playing or Working
I did check on it once and turned the meat to make sure the spices were all distributing well (and to make sure I wasn't burning it like I do most foods I walk away from!). 🙂
You'll know for sure when it's done because it'll be super tender and start falling apart before you even started to shred it!
Once it's done, you can just put it on a cutting board and use two forks to shred it. That's when you can remove any excess fat that might not have dissolved into the pot.
As I was shredding, I moved it to a plate. Then when I had it ALL shredded, I tossed it back into the slow cooker for another hour, just to absorb the flavors from the juice and keep it warm. You don't have to do that though. It was super flavorful already, but I wasn't ready to sit down and eat.
You can serve it any way you'd like. If you eat them, you can throw some on a bun, toss some barbecue sauce on top and have a BBQ sandwich. You can eat it alone with a side salad or veggies if you want. Or you can add teriyaki sauce to it. Pretty much whatever flavor you're looking for!
That's why I liked it so much. It freezes well. It thaws fast (I divide it into baggies with 2-3 meals in each). And I can eat it all week without getting bored since you can add whatever flavors you want!
Obviously if you're feeding more than just yourself, it may not make it to the freezer… just refrigerate what's leftover for tomorrow!
Gotta go,
Debi aka @GenXBrat
p.s. What's your favorite way to use pulled pork? I like it on low carb tortillas with avocado, salsa and sour cream. I also add sugar free BBQ sauce (I use Guy's Award Winning Sugar Free Spicy BBQ Sauce… he has non-spicy flavors too)