I asked my son what he wanted for Christmas dinner… game hens again (that's what we had for Thanksgiving but they really weren't that good this time around), ham, chicken or meatloaf (it's his grandma's recipe).
He chose meatloaf. I'm good with that!
The Original Recipe – Twin Meat Loaves
This is the original recipe I got from my mom. She made it for us as far back as I can remember. She was a single mom of two. And even when she was with my stepdad, she still had to make food stretch because he came with two sons that moved in as well.

1 lb hamburger
2 cups cracker crumbs
2/3 cup milk
2 tbsp. minced onion
2 eggs
1 tsp. salt
1/4 tsp. each: pepper, dry mustard, celery salt & garlic salt
3 tsp. Worchestershire sauce
Bake at 350 degrees for 1 hour
There are a few things I do different nowadays. Most don't make a noticeable difference to the flavor or texture. For those that do, I've noted it below.
I usually use turkey instead of beef… simply a personal preference. The one notable difference is that there's really no need for the holes in the pan for grease to go through. There's just not enough fat in turkey for there to be any… which means you also want to grease the pan if you choose this route.
I use onion powder in place of the minced onion… I can't stand minced onion. In fact, I can't stand onions at all for the most part. If you do like onion, I'm sure you can use fresh chopped onions as well (I've known people to do that… which is why I don't eat their meatloaf!) 🙂
Sometimes I have to add more cracker crumbs. You'll know if you need more because the mixture will be too wet to shape into loaves. The best I can figure is that it has to do with how fine the crackers are crushed… so two cups doesn't always end up the same? (Just my beginner cook theory… but you'll definitely know!)
If you don't have dry mustard on hand (it's not something we usually had growing up), you can use regular mustard without any difference too!
Let's Get This Put Together!
I usually get all the ingredients out before I start mixing, mostly because I get distracted and don't wanna risk doubling up or forgetting something!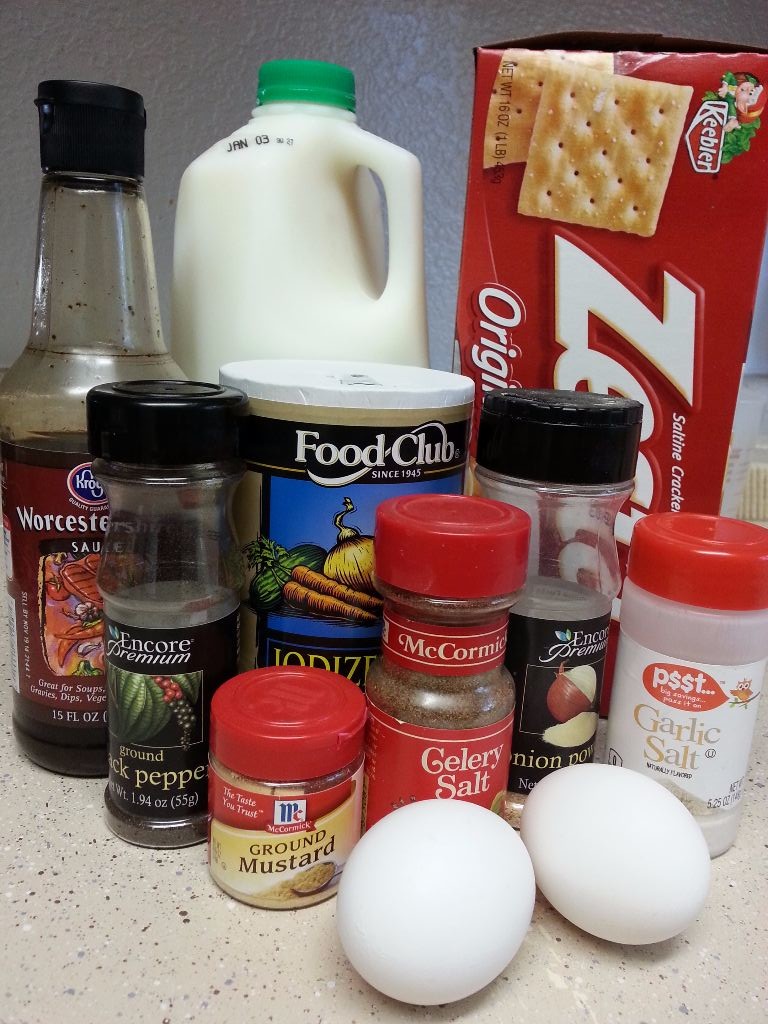 Mixing is super simple. Just toss everything into a bowl and stir it up till everything's blended together. Once it's mixed, divide it in half and shape into two loaves. And if you're anything like me, there's gonna come a time when you think, why not just make one big one? I've tried. The inside doesn't get cooked within the hour. And if you leave it in longer, it burns the ketchup on the outside.
But if you're good at cooking, here's something I thought about but have NOT tested yet. You could maybe cook one large loaf without the ketchup initially, and then add the ketchup once there's about an hour left. The only reason it even crossed my mind is because I made these using reduced sugar ketchup that burned even within the hour. So the next time I make it, I'm gonna add the ketchup half way thru to see if that's stops that issue.
Of course I've also gotta figure out what I can use in place of crackers that will keep the texture and taste, while making it a true low carb food.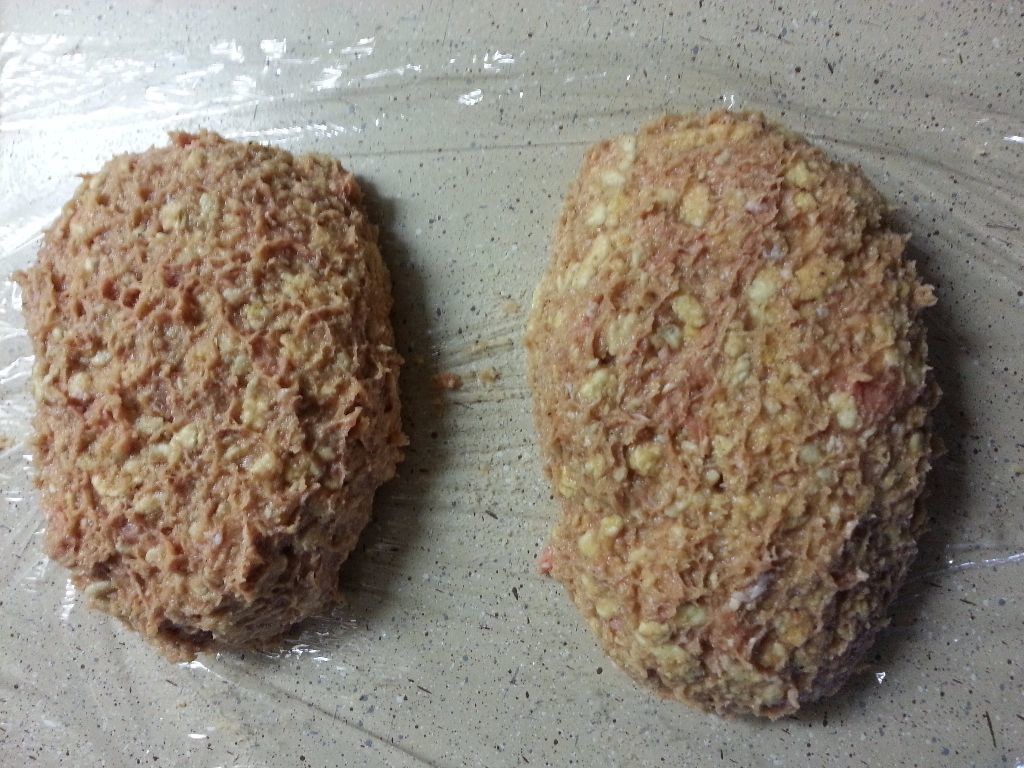 Once the loaves are shaped and on the pan, simply coat the top and sides with ketchup.
NOTE: If you use reduced sugar ketchup, wait until halfway thru the cooking time to add it… this was the first time I used it and it burned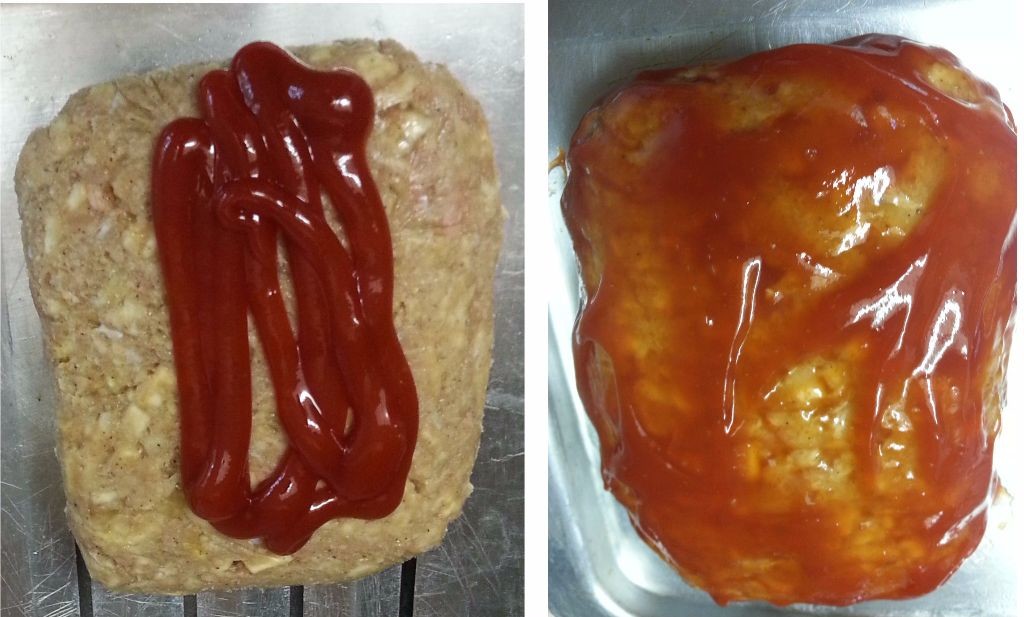 This was my first time using reduced sugar ketchup and it burnt. Don't get me wrong. It didn't TASTE burnt, but the ketchup has NEVER ended up this dark. It should be more like the dark red on the sides.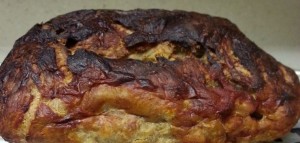 As you can see, in spite of the ketchup fiasco, the inside is just right. You can add ketchup to it or eat it as is!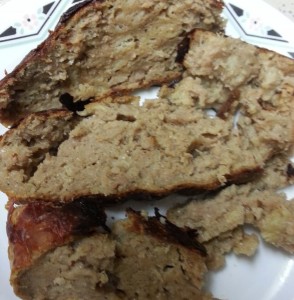 Here's the nutrition info based on making it with turkey (80/20). You'll want to adjust accordingly for the ingredients you use as well as the number of servings (this one's based on 6 servings… essentially 3 servings per loaf).
So there you have it. I hope you enjoy my mom's meatloaf recipe as much as we have thru the years. I know there are TONS of recipes out there for meat loaves. My stepmom used to make hers with real onions. And if that wasn't bad enough, she put them in the bottom of the pan so they ended up sitting in the grease the whole time. To me, that was disgusting. But she kept making it so I can only assume that HER family liked an entirely different kind of meat loaf.
This is definitely NOT a low carb food!! But it has the potential to be. It's just gonna take time to test substitutions for the crackers (and it's not something I make regularly so it may be a while before I know!). I've seen suggestions of using crushed pork rinds (I hate them by themselves, but they coat and fry fish really well!), or maybe some flaxseed meal or almond flour. Others say they add some additional eggs and/or parmesan cheese… that would definitely change the flavor I think. The big issue will be finding the right amounts to substitute and keep the texture and flavor. I'll definitely update when I know!
Do you have a family favorite meat loaf recipe? If you test this recipe at your house, I'd love to hear about changes or additions you make. And feel free to share if you liked it or not. I promise, even if you completely hate it, you WON'T offend me by saying so!! There's a reason there are SO many recipes out there!!
Take care,
Debi aka @GenXBrat
p.s. Be sure to subscribe for updates and to join in on the conversations!