I've been eating low carb for a while (I signed up for a 90-Day Low Carb Challenge) and people in that group are always looking for good places to find things that are low carb AND tasty… they're not always easy to find.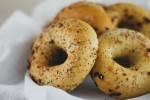 So, a couple weeks ago, my mentor (and low carb friend) mentioned that she had ordered some Great Low Carb Bread Company bagels from Netrition to test out the flavor, as well as whether it would make her stall (for you carb-eating folks, that means you stop losing weight). She was willing to "take one for the team", even if it meant she gained a bit of weight back (I think she was just looking for a reason to eat bagels for a few days, but without proof, I'll just have to take her at her word). 😉
So, this past week she let us know that her "experiment" went really well. Good flavor (at least with the Everything Bagels), and no gain!
Now, I realize that everyone's body reacts differently to low-carb foods, but since I do like the occasional bagel, I just put in my order to Netrition to have some delivered. I've ordered the Everything and Rye flavors (I miss having rye bread on occasion with my evening coffee).
They have several other flavors as well. If you'd like to test them out for yourself, you can head over to Amazon and read the reviews. Then, unless you regularly order from Amazon anyway, you can get them over at Netrition!
I'll have to update you on my thoughts about these bagels once they arrive!!
Until then!
Debi aka @GenXBrat
p.s. Are you familiar with Netrition? Have you ordered anything from them yet? I'd love to hear your thoughts if you have!
p.p.s. I didn't pay for the thermal shipping (although I probably will in another month, given that I live in AZ) or the faster shipping. I find that Netrition delivers quickly so I'm gonna see how the bagels fare this way.