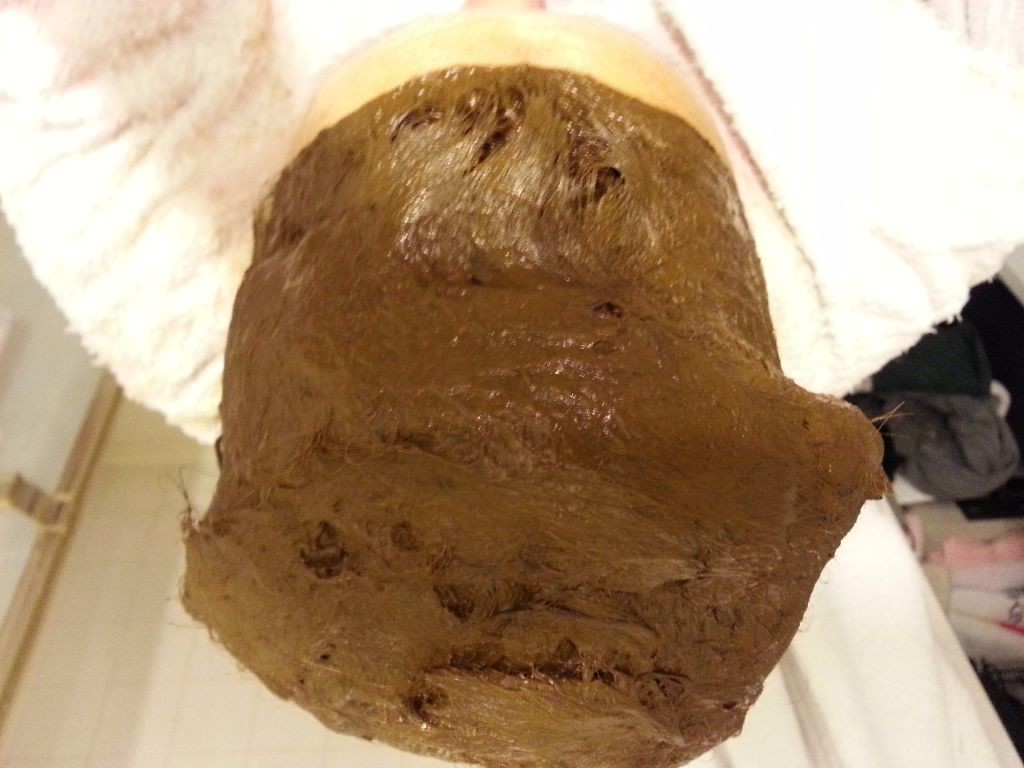 Well today's the day I see how well henna works on my hair! I've put it off long enough.
I just finished gooping pure henna all over my head. It wasn't nearly as messy and I thought it was gonna be. Or it could be that I was just super careful because of all the horror stories I've read about the mess it makes… not to mention I've already spent a few hours cleaning purple off everything in one of my bathroom's that was left by my son's ex-girlfriend and my complication's daughter!!
It's step one to covering the gray, and step one to becoming the redhead I've NEVER wanted to be!
I won't panic when it comes out red though. I'm expecting it. I learned from all my research that using pure Henna as a first step will help a lot to cover the gray I hate so much. Once that's done, the next step is using a pure Henna and Indigo (Henndigo) mix. In theory, that will move me from a redhead to a warm medium brown-haired girl with highlights.
As long as it doesn't end up green, yellow or that funky old lady maroon, I should be a happy camper.
The advantage to henna is that even if it's a horrendous shade of ick that I can't live with, I can immediately do it again and change the outcome… not something you can do with chemical hair colors… ask me how I know!
I've had the henna for a few months, but I kept putting off doing it because of the time factor involved, not to mention, did I really wanna risk green hair for the holidays? Oh wait, that might have been a GREAT time to go green!! 🙂
I've already left a heating pad on my head for 30 minutes to speed up the process. And I'm letting it sit for three hours before I wash it out.
I'll be back with pictures and an update about how it turns out!
In the meantime, if you have any experience using henna hair dye, I'd love to know how it turned out. Just let me know in the comments!
UPDATE: Here's how the first step turned out. It's not that it's a BAD color… I just don't look good as a redhead!! I DO look like I'm related to my brother now though! 🙂

Take care,
Debi aka @GenXBrat
p.s. Be sure to subscribe for updates and to join in on the conversations!
2 thoughts on "
My Henna Hair Dye Experiment – Let's Get This Party Started!

"