Obviously we're on a "let's discuss my hair" week. It's not something I planned, but this whole henna dye thing was something that I found scary as well as fascinating. So I figured I'd let you know (and document for my future attempts) what's going on with it.
So why am I still talking about it 24 hours later? Because I'd read that, unlike chemical hair dyes, henna hair dyes take time to process… yep, it's a bit strange to me too! But it's true!
Check this out… I've got side-by-side pics of what my hair looked like when I finished yesterday and what it looks like exactly 24 hours later.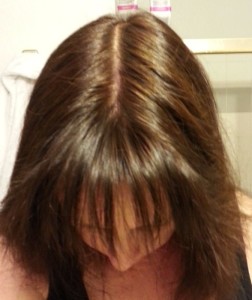 The oddest thing about this whole henna experiment for me, isn't the color changes. It's the fact that what I see in the mirror and what I see in pictures don't match. The pictures show this really awesome deep, dark orange and then the exact warm, medium brown I was looking for. But the mirror shows me a bright orange mess and then a much darker, almost black, coloring.
Something else I can't explain… but I'm sure I'll have to go Google it before it drives me crazy!!
So there you have it. My very first attempt at using henna hair dye. From what I understand, it doesn't fade at all, and each time I use it, it will simply make my hair darker. There's also another item I bought that's strictly for a conditioning effect. I'll probably test that out next weekend (I'm going to give what I've already done some more time to see if it darkens any further. Hell, I may have BLACK hair by the weekend!! 🙂
By the way, if you wanna read my other posts about what I'd done to my hair to get to this point, I've got links here:
The first one covers the initial step of using pure henna only to cover the gray. It's not mentioned everywhere so I'm really glad I did a lot of reading before I got started. I know that no matter what you use to color your hair, grays tend to be the most challenging to talk into taking up the color and holding onto it. I don't know why. I'm a gal who hates gray hair… not a chemist!
The second one covers step two, which was using a Henna/Indigo (henndigo) mix to go from being a redhead back to the brunette I've always been. I used a 50/50 mix, which was supposed to turn into a golden medium brown. What shocked me is that I pulled it off!! There's so much I'd read that could have gone wrong… maybe I'll finish up the week tomorrow with a post talking about that.
And please, feel free to comment about any experience(s) you've had using henna!! The more people know before doing this, the better in my book!
Take care,
Debi aka @GenXBrat
p.s. Be sure to subscribe for updates and to join in on the conversations!