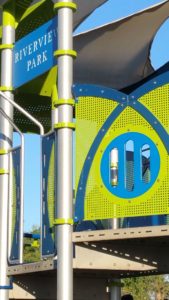 I went to the park yesterday with my man and his grandkids.
Since I broke my ankle, they've come to visit and we hang out at the house drawing. And each time the get here, they ask me when if I'm still hurt.
Today when they came over, I let them know I finally got permission to walk (6 days ago), but that I was going to be slow for a bit still.
Their grandpa told them I was a robocop because I'm still wearing that huge ass boot for another 4 weeks! 😀
We went for ice cream, then to the park to feed the ducks. Afterwards. we hung out at the playground for a while.
When we got back to the house, we spent time drawing while waiting for dinner to be delivered.
And here's the thing. Not once did I tell them I hurt. Not once did I talk about the pain in my ankle or the fact I may be tired.
We just had a great time and enjoyed the day together!
I've always believed that having the right attitude can make your days (and life) run much smoother. But since this break, it's become even more apparent!
Complaining wouldn't have done anything but put a damper on a truly awesome day!
Can you relate? Have you had moments where it suddenly dawns on you that the reason you may be feeling bad is because of YOU? Have you ever found yourself feeling bad, made a conscious choice to be happy, and suddenly found yourself feeling better? Feel free to let me know in the comments what things you do to shift your thoughts from negative to positive!
Take care,
Debi aka @GenXBrat
p.s. Be sure to subscribe for updates and to join in on the conversations!