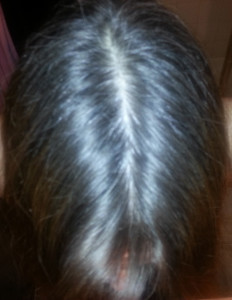 Well I should have.
Yes, it's true…I hate gray hair (mine in particular, so if you're comfortable sporting grey hair, more power to you). More importantly is that I hate GETTING grey hairs!
It's not that I have anything against the grey itself. I mean it's only a color right? (shifts eyes to make sure no one's looking at her gray).
And technically, it's not grey. According to my girlfriend (who's also a hair stylist), they are actually white hairs, not gray. That means they're devoid of pigmentation…they are absent of color all together.
I don't care. Paula Dean looks great with gray hair. On me as a brunette (and yes, it's natural so don't even go there), grey hair makes me look old.
Did I mention I hate grey hair? Well I do.
I used to yank them out. But then my hairstylist girlfriend back in IL told me that if I keep doing that, I'll kill off the roots and will eventually have NO hair.
And I like being bald even less than I like turning grey!
It's really too bad I'm not more like my mom in this respect. She died at 52 without a single grey hair. I kept asking her stylist to look for them every time she'd go get a cut but nope, never did find any. I'm not that blessed.
So here's what I do. Like a lot of other late Gen Xers and Boomers, I color. And no, I'm not ashamed of that fact. In fact, I just did it again tonite and my hair hasn't been this soft for a while (can someone tell me where to find the conditioner that comes with colorants because it's awesome!).
My hair stylist is here in AZ. When I have time to go see her I do because she does SUCH a better job than the boxed stuff. She also trims off all the dead ends and makes me look beautiful again. I think everyone should have a stylist that does that for them.
Oh, and if you live here and don't have one yet, her name is Gretta…she's awesome, sweet, & she's great at getting rid of my grey hair and taking it back to it's original non-sun-bleached natural color. I've used her since 2000 and I'm not giving her back…but I'll share.
Well, I gotta go for now. Just thought I'd stop in before I head off to another sun-bleaching work day and let you know that I hate grey hair. Did I mention that?
I'm always looking for better ways to get rid of it, so if you've found something that works for you please, feel free to share. In the meantime, I'll be sharing what I find here so be sure to subscribe so you'll be one of the first people to know!
Keep smiling,
2 thoughts on "
I Hate Grey Hair…Did I Mention That?

"