No, I'm not a chef. In fact, if you ask those who know me best they will flat out tell you… I don't even like to cook. There are, however, a few recipes I don't mind making here and there, as long as I can find someone willing to do the dishes and help with clean up.
Lasagna is one of those recipes I finally figured out  (and it turned out great if I do say so myself!).
So, for those of you "non-cooks" like me, here's a fairly simple one that turns out really well and actually impresses people.
NOTE: I'm not big on chunk-size tomatoes or lots of onions. For those of you who are a bit less picky about your food, feel free to add your own ingredients.
Deb's (Semi) Healthy Lasagna Recipe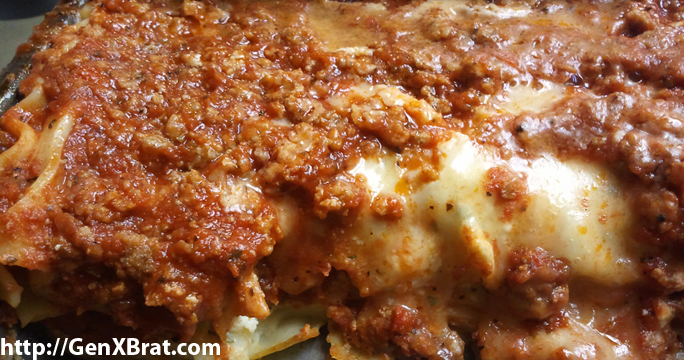 Servings: 10-12

Ingredients:

1 lb ground turkey
1 lb Italian sausage
3 garlic cloves, minced

1 teaspoon salt (or to taste)
1 tablespoon dried parsley flakes
1 tablespoon dried oregano
1 tablespoon dried basil
2 (14 1/2 ounce) cans tomato sauce
2 (6 ounce) cans tomato paste

24 ounces ricotta cheese (you can substitute cottage cheese if you'd like)
2 eggs, beaten
1/2 teaspoon pepper
2 tablespoons parsley
1/2 cup grated parmesan cheese
1 1/2 lbs mozzarella cheese, divided (you can get away with 1 lb, but if you're making lasagna, why not go all out?)
12 -15 lasagna noodles

Directions:

Brown the turkey, Italian sausage, and garlic together


Add the salt plus the next 5 ingredients and stir it till it's mixed up really well

Let simmer for at least an hour (I usually let it simmer at least 2 so the turkey can absorb the flavors)

Cook the lasagna noodles (use the package directions). Drain and set aside (I find it easiest to make sure they're laid out straight on a tray or plastic wrap before setting aside or leave them in a bit of water till you need them, so that they don't stick together)

Spray a 13 x 9″ baking pan with cooking spray (I use olive oil that I put in my Misto oil sprayer)

Combine the ricotta (or cottage) cheese with the eggs, pepper, parsley, Parmesan cheese and 1/2 of the mozzarella cheese.

In your baking pan, place a single layer of noodles, then a layer of meat sauce, and then a layer of your cheese mixture. Repeat the process until you're out of noodles (or there's only enough room in the pan for your cheese). 🙂

You want your final layer under the cheese to be a layer of noodles if possible, just so that your mozzarella doesn't melt down into your meat sauce layer. But don't worry if you end up with meat sauce instead of noodles. We use enough mozzarella on top that you definitely won't "lose" the cheese into the meat… it will bake on top very nicely either way!

Whichever layer you end with, sprinkle the rest of your mozzarella cheese over the top.

Bake it at 375 degrees Fahrenheit for 30 – 40 minutes, or until cheese mixture is thoroughly melted and starting to brown on top. I typically like mine a bit browned all over but some people like their cheese a bit more gooey.
So, there you have it. It's a recipe I don't use often but when I do, it turns out really delicious every time.
FYI… Because I don't like to cook much (and because it takes so much more time to make something like this), I always make 2 pans of it when I do make it. I freeze the 2nd one before cooking. That way, when we want more, I can just thaw it out, pop it in the oven, and have a whole second pan of freshly made lasagna for my family ready to eat in 40 minutes or less!
And if you're cooking for fewer people (this feeds my family of 4 plus friends), you can make the single recipe into 2 square pans rather than the single 13 x 9 and freeze one of those (or make 4 and freeze 3… yum!)
Warm regards,
p.s. I've heard from people who use frozen raviolis in place of the noodles and such for a faster recipe. I'm curious whether you would still have to use as much ricotta (or any at all) and beef, since the raviolis would already have some inside. Let me know!