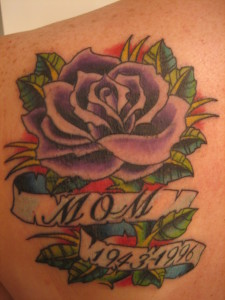 Fifteen years ago today I watched my mom take her last breath. I woke up this morning thinking about that day. It's amazing how vivid the last 3 weeks of her life are to me, even after 15 years. I miss my mom…
There are so many things that I've wanted to say to her over the years, so many things I wanted her to see.
When I was a kid I thought she'd live forever. I'm not sure many people ever think about the mortality of their parents when they're young.
Heck, I don't remember thinking a lot about how my mom felt about things in general until I was a senior in high school, and that was only because there was a major life event that had happened for her.
Since my mom's been gone, we've owned 9 ferrets, 8 within the first year of her death (people do odd things when they're grieving). I've moved to Arizona, bought my first house, become a trucker and have traveled to Fiji, the Bahamas, Cancun, Singapore, and Indonesia. Traveling was something my mom had always wanted to do but no matter what, I couldn't talk her into selling her house and just going. Her home was an "investment".
Yeah, right. An investment… one that my brother and I sold after her death.
My son's missed her in his life too. He was 10 when she died.
He's finished high school and he's in college. He's had his first kiss, first girlfriend, first…well, we won't go there (but it's always funny to think my mom's been watching from Heaven…there's just some things that I'm guessing she closes her eyes for). 🙂
He's missed having her here to talk to about life's adventures and troubles too. She was his second parent. Throughout his 10 years, she was at his baseball games, soccer games, school lunches for grandparents, school plays…you name it, she was there. We lived an hour and a half away from her for a few years, and if she wasn't with us in Peoria, we were with her in Springfield.
My mom and I had fought for many years while I was in high school, but after my son was born I started understanding all the sacrifices she'd made for me, the love she'd had, and most importantly, I learned what unconditional love meant.
As an adult (and a mom), I gained an appreciation for my mom that I'd never had. And she and I became the best of friends. When my son was about 4, she was finally able to tell me she was proud of the mom that I'd become (I was never a "bad" mom, but I wasn't always an "adult" mom either. I grew up with my son. But that's a whole different story.
We never got the time to talk about what it was like when her generation was growing up. There are things she'd mentioned over the years that happened when she was younger that made her who she was…some good, some not so great. I had given her a diary when she turned 50 and asked that she write down her thoughts she could remember about her life before I came along. She never could bring herself to put pen to paper on that one.
Hmmmm…maybe that's part of why this project is important to me.
In 2007, I got a tattoo on my right shoulder – that's the picture at the top of this post. My mom was cremated and we spread her ashes over my Grandpa Crouch's grave in California (He's buried on the top of a hill overlooking Half Moon Bay, CA where he used to fish).
It bothered me that there was nothing on this Earth to show that my mom was ever here. No gravestone or cemetery plot or marker of any kind like I'd grown up knowing about my grandparents. When I missed them, I'd go to the cemetery and "visit" with them. So I got the tattoo.
She would've cringed over that one too. 🙂
There's not a doubt in my mind that I always have her with me…my very own guardian Angel. But it's just not the same as having her here to talk to over Sunday morning coffee, to walk with around the neighborhood or over to the Dairy Queen…or to hear her say I love you.
Warm regards,
p.s. I know I'm not the only one who's lost someone they love. But I do know that the only ones who truly understand what it's like to lose their mom, are those who have lost one. It's definitely a unique kind of pain. Hugs to all of you who have had to face it.