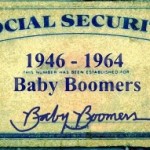 Baby Boomers were born between 1946-1964, right?  Well, sorta…
Everyone seems to agree on what year Baby Boomers got started. Birth data, not to mention the end of a war, makes it easy. However, it's tough to find a consensus on the exact year of when to declare that the Baby Boomers stop & Generation X begins.
It makes sense though. It's a lot like saying that the day before your 18th birthday you're NOT an adult, but suddenly at midnite…ta-da!…you're all grown up. Yeah right.
So, let's see if we can at least get a general idea of what a Baby Boomer looks like. After all, I'm working on figuring out what group I belong to.
According to Wiki-Pedia (not to say it's an expert opinion or the only one out there…just looking for an apples to apples comparison)
Baby Boomers in General
US Census Bureaus says 1946 – 1964
Grew up in the 1960s and 1970s
Grew up in a time of affluence
Truly expected the world to get better with time
Think of themselves as a "special generation"
Grew up experiencing significant social & political changes
The ones born between 1954 – 1964 has sometimes been referred to as Generation Jones. The difference between what the beginning of the Baby Boomers experienced socially & politically are:
Baby Boomers born between 1946 – 1955
Cuban Missile Crisis
Assassinations of JFK, Robert Kennedy, & Martin Luther King, Jr.
The first Walk on the Moon
Possible draft into the Vietnam War
Anti-war protests
Drug experimentation
Civil Rights Movement
Women's Movement
Protests & Riots
Woodstock
Rock & Roll
Motown
Transistor Radios
This section of the Baby Boomers are usually considered the free-spirited one who had a cause, as they fought for civil rights, the feminist cause, gay rights, handicapped rights, and the right to privacy.
Baby Boomers born between 1956 – 1964
Watergate
Nixon Resigns
Cold War
Lowered Drinking Age from 1970-1976
Oil Embargo
Huge inflation
Gas Shortages
Jimmy Carter reinstated registration for the draft
Disco music
Punk music
MTV
This section of the Baby Boomers seem to have become less optimistic and have a larger distrust of the government.
So, there you have it. All that said and STILL no clue as to where I fall. But at least I know that someone distinguishes us from the 1956 crowd! (No offense guys and gals…it's just a bit odd at my age connecting with what was going on during WWII). 🙂
Warm regards,
p.s.
For those of you who are like me, is there one generation that you associate with more than the other?