I've been using Tropical Traditions Virgin Coconut Oil to cook with for about 2 years now. It gives my fried fish an incredible flavor! (Yes, I still fry my fish… at least some of it).
A lot of people online and off seem to think that's a pretty normal thing to do. But you've gotta understand. I don't cook. Heck! I didn't even know that coconuts HAD oil!
That's right. I was ignorant to the fact that there was such a thing as coconut oil.
First of all, I don't like coconut. Or at least I didn't. And in some forms, I still don't. Almond Joy and Mounds bars… ewwwww! Coconut cream pies or shredded coconut… not in MY house!
But then my sweetheart (he's Mexican) showed me these cool little side of the road stands where (typically) other Mexicans are selling what he calls "baby" coconuts with lemon and chile powder.
I'd explain the whole "selling things on the side of the road", but that's a whole different post.
So let's start with the "baby coconut" thing instead. Turns out, they're young coconuts. They haven't completely ripened so the coconut inside hasn't yet hardened enough to be "shredded coconut" worthy. It is, however, ripe enough to eat, and has a much softer texture and less coconut flavor than what fully ripened coconut has.
Go ahead. I know you're thinking it cause my loved ones actually SAY it to me… how can a coconut have less coconut flavor? I don't know. It just does. 🙂
As for the lemon and chile powder. Well, that's a blog post for another day as well. Suffice it to say for this conversation that it's a VERY tasty combination!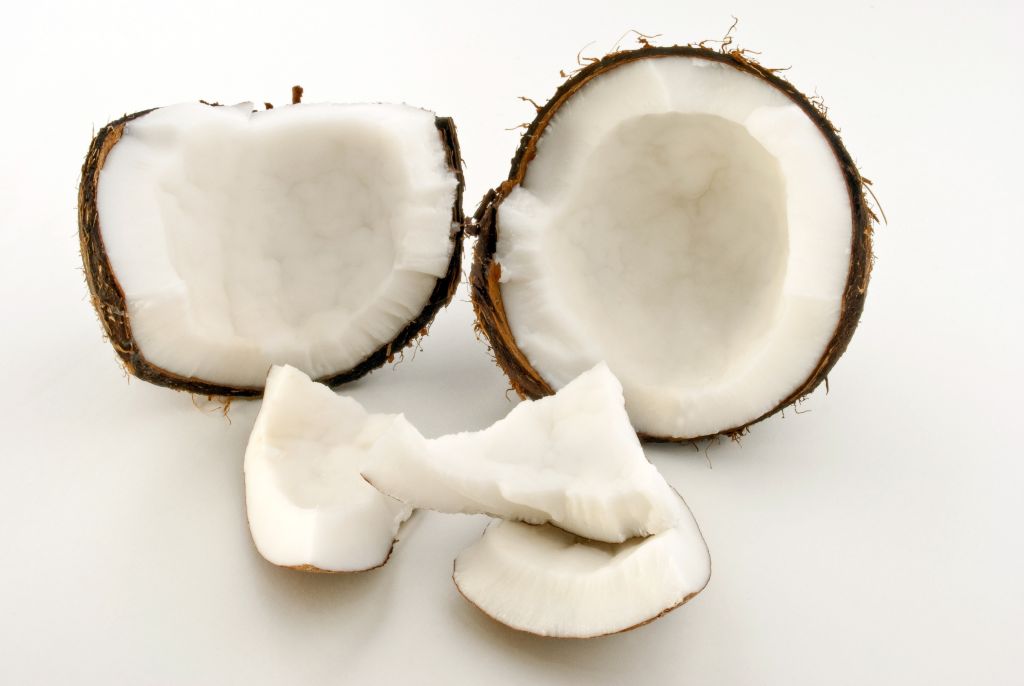 Here's the thing though. Once I found out that there are forms of coconut I do like, I started buying more.
And, like everything else that comes up in conversation, I headed to Google to learn more about them… and found out that coconuts are extremely high in oil. Really!!
I did say I was ignorant to this fact right?
Well, then I started reading about the differences between how coconut oils are processed. What makes one better than another? Which ones do people like best? Are there ways to use coconut oil so that you don't turn it from healthy to not-so-great?
Turns out that eating coconut oil is only one way to use it for your health and well-being. In fact, I would have laughed in disbelief is someone had talked to be about all the benefits of coconut oil years ago. I had no idea!
Hair. Nails. Skin. Lips. Healing. Stretch marks. Babies. And more!
No doubt I'll be talking more about this this as I start trying out some of the ideas I'm finding.
Let's Talk about Coconut Oil for Hair Care
Using coconut on my hair is why I started this conversation, so let's get back on track.
I mentioned in my Healthy Choices for 2014 post that my hair is one of those areas I'm working on improving this year.
NOTE: Even though I use Tropical Traditions for cooking, I ordered some Nutiva coconut oil from Amazon for my hair. It takes weeks to get my coconut oil from Tropical Traditions (and it's well worth the wait), but I didn't want to wait that long to do my hair… and I didn't want to run out of coconut oil for my fish because I've used it all in my hair!
My hair's been really dry this year. Age is playing a factor I'm sure. And yes, I'll definitely be covering more about this later!
But the newest drying agent, besides the dry winter air, is the chlorine from the pool.
I live in Arizona and the complex we live in has a pool right outside my door. Literally, I'm about 25 steps from the gate. And in the winter, it's heated, so I've been going out to swim and relax.
Last night, I decided to test whether using coconut oil as a conditioner would work as great as all the stories I keep reading online.
I'm sick of my hair feeling so dry and brittle. And I'm tired of it looking dry and frizzy during the daylight hours too. So, after perusing thru a few sites, I figured out how to do this.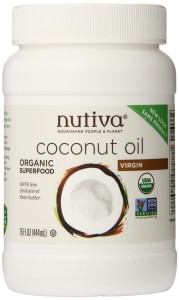 I got out my new jar of Nutiva Organic Extra Virgin Coconut Oil and I scooped out four spoonfuls of oil and put it on a small plate.
NOTE: By "spoonfuls", I mean the small spoon you have with most utensil sets, not the large one that my sweetheart swears is for eating cereal (and he says *I* have the bigger mouth!).
Anyway…. I melted it in my hands a bit at a time rather than put it in the microwave to melt all at once. If you're gonna do it, I'd say melt it first. It'll save you a lot of time.
I would have, but I was just being too lazy to go to the kitchen. Not to mention I didn't wanna concern myself with whether I'd wake people up in the living room (long story).
It melts pretty fast in your hands so it's really ok that way too. As it melted, I simply ran my hands and fingers through my hair to start coating it. I didn't start at my scalp because so many people had mentioned that doing that could cause your hair to look oily even after it's washed out.
I don't have an oily scalp in general, but I just didn't want to risk it first time out.
When I got done putting it on my hair, it looked wet, but not dripping. I combed it through and then put an old pillow case around my hair. A towel would work too, but the pillow case was less bulky and I was going to be laying down.
I left it on for three and a half hours, then took a shower and washed my hair twice. When I was done, I went to bed and got up about four hours later, ran the blow dryer thru it to finish getting out the dampness, and it. was. awesome!
My hair felt soft! The frizzy was almost completely gone!
Honestly, I really didn't expect one treatment to make this much of a difference, especially given how long it's been so super dry and icky feeling. I was thrilled!
It's now been almost 21 hours since I put the coconut oil on my hair (17 hours since I washed it out), and my hair still looks great. My scalp isn't oily. My hair doesn't look oily either. In fact, it's looks healthier now than it's looked in a very long time.
By the way, I also put a bit of coconut oil on my eyelids and under my eyes as well since I'd seen that suggested a number of places too. I can't say for sure what it did since I was so focused on my hair, but I'll keep a closer eye on that part next time too.
Until then,
Debi aka @GenXBrat
p.s. I'd love to know about your experiences if you've ever used coconut oil on your hair. Did you include your scalp or just the rest of your hair? Were you happy with the results? And how often do you use it cause I'm still not sure what the "typical" regimine should be. I'm guessing it's more of a once a week or once a month conditioning.
p.p.s. Have you used Tropical Traditions brand of coconut oil or do you have another personal favorite? If you haven't used coconut oil before (or if you have used another brand but didn't like it), you should really give this one a go. I've tried a few others, but I always keep coming back to this one because the taste seems so much more natural (yes, I cook with it too!)
2 thoughts on "
Coconut Oil as a Hair Care Product?

"