Yes, it's Valentine's Day, my sweetheart's not here (nor has he stopped by or sent a text) and I don't expect him to be because we're going through a weird time right now that has us apart.
I got up this morning (ok, so MY morning starts around 2pm so it would technically be afternoon), took a shower and prettied myself up with my usual favorites (hell, I even took a curling iron to my hair!), just so I could spend the day working on taxes and business stuff!
But don't think for one second that that's not ok with me.
Would I like to have my "sweetheart" here? Yes… that way I could subject him to my movie he calls a "chick flick" (I've rented "Enough Said"). Technically it's a comedy, so trust me, he would have survived the abuse!
I've also rented "Runner Runner" and "Prisoners" so I know he'd have survived the evening just fine.
But he's not going to be here. He works nights and he's got people that he has to take care of that are far less able to function alone than I am. I'll have to get back to you as to whether I think they're worth watching…
So, as I sit here typing, my son's girlfriend is picking up the movies for me, and I'm waiting for … Oh, they're here!
Hmmmm. So Jimmy John's really DOES have crazy fast delivery!!
Where was I… food's here, movies will be here soon… and I'm going to enjoy the evening relaxing in front of the TV.
I hope you're getting to do what you want to do today too!!
Warm regards,
p.s. I've seen so many people talking about how they hate this holiday and I just don't get it. It's simply a day when kindness and love is made really apparent (as in… thrown in your face), but you can celebrate that kindness and love however you see fit! After all, what exactly has cupid really done to be so disliked?!
p.p.s. Well how about that?! I just got a text message from my man saying "Happy valentines day"… Better than a kick in the ass as my mom used to say!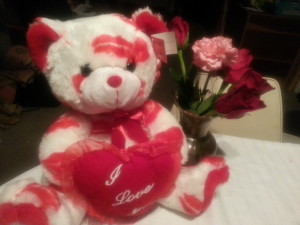 p.p.p.s. Wow! He stopped by before work to tell me Happy Valentine's Day too… and he brought me flowers and a VERY soft and snuggly teddy bear that plays Beethoven's Love Story when you press his paw!
2 thoughts on "
My Happy Valentine's Day Gift to Me…

"